Brother Rick
Brother Rick worked as a mobile DJ for 10 years. Currently volunteers to run sound in church. He will be taking over as the host of The Gospel Blues hour.
---
General Rotation
Playing a mix of music from our music library. You will hear a mix of different types of Christian music Blues, Blues Rock, Rock, Country and Bluegrass but mostly Gospel Blues.
Schedule:

---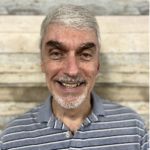 Pastor Mike Heath
Lead Pastor Kathleen Baptist Church 2020-Present
http://www.kathleenbaptist.com
Schedule:

Weekly Message
Tuesday 3:00 am-4:00 am
Wednesday 10:00 pm-11:00 pm
Thursday 9:00 am-10:00 am
Friday 2:00 pm-3:00 pm
Weekly Message
Tuesday 8:00 pm-9:00 pm
---
The Gospel Blues Hour
The Gospel Blues Hour has returned and is broadcasting again. The GBH network is coming back online as well with several stations picking the show back up.
Schedule:

Gospel Blues Hour
Sunday 8:00 am-9:00 am
Monday 12:00 pm-1:00 pm
Tuesday 7:00 am-8:00 am
Wednesday 2:00 pm-3:00 pm
Thursday 2:00 am-3:00 am
Friday 10:00 am-11:00 am
Gospel Blues Hour
Sunday 12:00 pm-1:00 am
Monday 9:00 pm-10:00 pm
Tuesday 9:00 pm-10:00 pm
Wednesday 11:00 pm-12:00 am
Thursday 11:00 am-12:00 pm
Friday 9:00 pm-10:00 pm
---